Prof. Quentin Parker and International Astrophysicists Suggest Unseen Stellar Companions Shaping the Planetary Nebula's Peripheral Layers
Approximate illumination model of the H2 halo of PN NGC 3132
Left: the JWST colour composite image showing the H2 extended structure. Right: the projected Shape image after assuming two concentric, thick, uninterrupted shells of material, illuminated by the central star, through a porous ellipsoid with reduced opacity in the polar regions. A fly-through video of this model can be found at this link.
Professor Quentin Parker, Director of LSR, and several members of Laboratory for Space Research (LSR), are among an international team of astrophysicists led by Space Telescope Science Institute and Macquarie University, who recently discovered that up to three unseen stellar companions that may have shaped the planetary nebula's layers of gas and dust. The team's paper, entitled 'The messy death of a multiple star system and the resulting planetary nebula as observed by JWST', has been published in Nature Astronomy.
'I am honoured to have played a small part in this wonderful paper lead by colleague Orsola de Marco at Macquarie University Sydney. This paper has made the most of the exciting new capabilities of the James Webb Space Telescope (JWST) via an excellent paper from the leaders of the international PN community', said Professor Parker.
The team of researchers analysed images of the planetary nebula NGC 3132 from the JWST Early Release Observations, which showed a structured, extended hydrogen halo surrounding an ionized central bubble is imprinted with spiral structures, suggested to be shaped by a low-mass companion orbiting the central star at about 40–60 au. A mid-infrared excess at the central star was also revealed, which was interpreted as a dusty disk, indicating an interaction with another closer companion. In addition to the previously known A-type visual companion, the researchers stated that the progenitor of the NGC 3132 planetary nebula must have been at least a stellar quartet. Furthermore, with the new measurements of the A-type visual companion, the team was able to derive the value for the mass of the progenitor of a central star with excellent precision: 2.86 ± 0.06 M⊙.
This study showcased the power of JWST to investigate complex stellar outflows, of which JWST images enable the researchers to generate a model of the  illumination, ionization and hydrodynamics of the molecular halo. The results also shed light for future JWST observations of planetary nebulae, providing unique insight into fundamental astrophysical processes including colliding winds and binary star interactions, with implications for supernovae and gravitational-wave systems.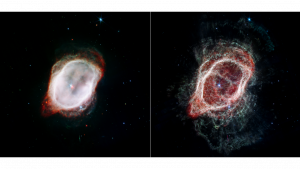 Two views of the Gas in the Southern Ring Nebula (NIRCam and MIRI Composite Images)
The research paper can be accessed here: https://www.nature.com/articles/s41550-022-01845-2
This article is adapted from the press release of NASA's James Webb Space Telescope and Faculty of Science, The University of Hong Kong.