LSR 2019-2020 Annual Report
LSR 2019-2020 Annual Report is available now.
You can download the soft copy by clicking the following picture ↓: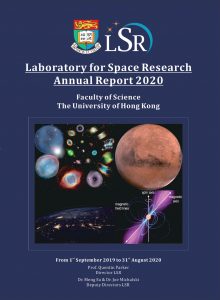 Foreword by the LSR director :
It gives me great pleasure to present the inaugural annual report for the Laboratory for Space Research. After a period of growth and consolidation the LSR is now at the stage where we can look forward, with great confidence, to a bright and productive future. This is based on the remarkable level of on-going success we have demonstrated over the last 12 months in particular and as recorded in this report. It is the human capital in our leadership team and membership that has led to all our activities, initiatives and achievements. I am proud to be able to serve the LSR and Faculty of Science at HKU and to have such an excellent group of colleagues.
I would like to express particular thanks to my two outstanding deputy directors Dr. Meng Su and Dr. Joe Michalski without whom much of this story would not be possible. I hope you enjoy perusing this report and that at the end you are able to see what we see – an important interdisciplinary centre full of outstanding people, ideas and vision and an excellent asset for HKU!
With my best wishes,
Professor Quentin Parker (柏坤霆教授)
15.09.2020